Teeth Whitening at Nova Smiles Dental
Brightening Smiles Across Wallsend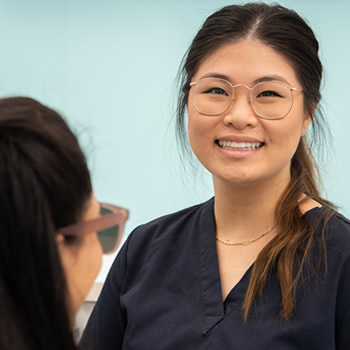 Whiter teeth are the perfect accessory for any outfit or social occasion. Investing in a brighter smile can help you to look your best, help you make a great impression and offers the perfect mini makeover.
Am I a Candidate for Teeth Whitening?
Before whitening your teeth, Dr Jenny Hong (Dentist) will need to make sure that your smile is healthy. Any existing gum infections or open areas of tooth decay will need to be addressed first.
It's important to keep in mind that whitening your teeth will not change the colour of any existing restorations such as crowns or fillings within your visible "smile zone", which can make them stand out. Fortunately, you can elect to have them changed out to match your whiter smile after treatment.
Types of Professional Whitening Treatments
Having your teeth whitened by Dr Jenny will provide you with better results than what you can achieve with an over-the-counter product. Depending on your preferences and timeframe, we offer two types of professional whitening services to choose from:
In Chair Whitening: In Chair Whitening is a single-visit procedure at Nova Smiles Dental that takes about an hour to complete. First, we polish away superficial stains and then apply the whitening product directly to your visible tooth surfaces. After a few minutes it's rinsed away and reapplied 2-3 more times. The accelerated process is ideal for deep, tenacious staining and when you want to see results as quickly as possible.
Take Home Whitening Kit: Take Home Whitening uses custom bleaching trays that hold professional grade gel against your teeth so that you can brighten them at your convenience. Wear the kit about an hour per day and see full results within two weeks. We recommend touching up after every scale and clean to keep your smile bright for years to come.
Give Yourself a Reason to Smile
Enjoy whiter teeth in just one trip to our office! Contact us today for a teeth whitening consultation.

Teeth Whitening, Maryland, Cameron Park, Elermore Vale NSW
(02) 4951 6666