Dentures at Nova Smiles Dental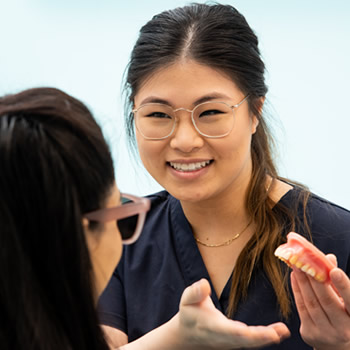 When you need to replace missing teeth or plan for full mouth rehabilitation, dentures offer a durable and affordable solution. Each set of dentures at Nova Smiles Dental is designed specifically for your individual smile, restoring your bite in the most efficient manner possible.
Types of Denture Designs
Depending on how many teeth are missing, you can choose between a full or partial denture to either replace all of the teeth on your upper or lower arch or to snap in around your existing ones to avoid additional extractions.
Partial dentures can be made from acrylic or a chrome base, depending on where your missing teeth are located and what's visible when you smile.
How to Care for Your Dentures
It's important to care for your new denture just as much as if it were your natural smile. All removable appliances should be taken out at night to soak in a denture cleanser and loosen any buildup that has accumulated throughout the day. To prevent infection, clean your mouth with a soft damp washcloth at both bedtime and in the morning, before brushing your denture and wearing it again.
Should You Still Schedule Dental Checkups?
Yes! Over time the shape of our mouths can change, especially after tooth loss. To ensure that your denture is fitting properly (and comfortably) be sure to schedule a checkup every six months. During your visit, we'll also screen for other oral infections and soft tissue diseases.
Denture Adjustments, Relines and Repairs
If your denture feels uncomfortable or loose, it may be time to have it adjusted or relined to ensure a tighter seal against your gum tissues. When getting a new denture for the first time, it's important to practice wearing and talking with it as much as possible to adjust to the way it feels.
Are Dentures Right for You?
Contact us today to request an exam and complimentary treatment plan outlining the process that's involved.
* Any surgical or invasive procedure carries risks. Before proceeding, you should seek a second opinion from an appropriately qualified health practitioner.

Dentures Wallsend, Maryland, Cameron Park, Elermore Vale NSW
(02) 4951 6666