The Story Behind Nova Smiles Dental
About Our Wallsend Practice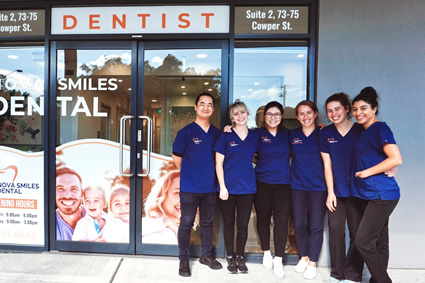 When Daniel Kung and Dr Jenny Hong (Dentist) purchased our practice from the previous owners in 2018, they made it their goal to deliver down-to-earth family dentistry in a comfortable and technologically advanced facility. As a family-owned and operated location, we're able to focus on what matters most: our patients.
Why We're Different
The difference you feel when you visit with our oral health team is one where you're constantly greeted with a friendly smile and always met with attentive ears. Our dentists are easy to talk to because we always want to put our patients' needs first (which means tailoring care to their individual situations). We want you to feel comfortable and at ease, whether you're here for a scale and clean or something more complex, like an emergency.
From caring for young children to recent retirees, we deliver comprehensive general dentistry for all ages in one friendly location.
"We are dedicated to providing a high standard of care, comfort and excellent service and become a place where you would recommend and entrust us to care for your friends and family."
The Latest in State-of-the-Art Dentistry
Investing in technologically advanced equipment facilitates gentler, higher quality services that meet our standard of care. Some of the resources that we incorporate into our practices include:
On-site OPG for efficient diagnosis and evaluation
Digital X-rays for higher resolution imaging that's safer for our patients
Comfortable nitrous oxide (laughing gas) anti-anxiety treatments
Who We See
As a family practice nestled just outside of the CBD, we see patients of all ages. Many of our clients are busy professionals with young children. Our facility makes it convenient to bring everyone to see the dentist in one convenient location.
Making Quality Care Affordable
You'll be pleased to know that we accept most health funds so that you can enjoy appointments with all claims processed on the spot. Flexible financing options are also available!
Call now to schedule.
CONTACT US

Nova Smiles Dental | (02) 4951 6666