Invisalign at Nova Smiles Dental
Wallsend Translucent Adult Orthodontics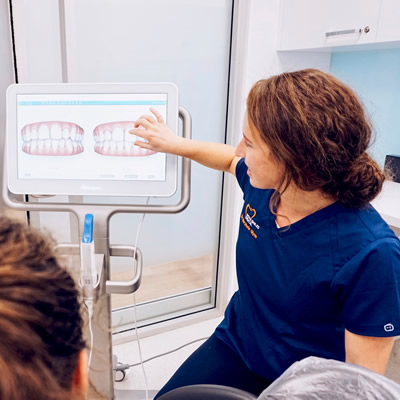 Have you always wanted a straighter smile?
With Invisalign® clear aligners, you can achieve the smile of your dreams. At Nova Smiles Dental, we're proud to offer the solution you've been looking for.
With Invisalign aligners, your teeth can shift into a proper, straight position that allows for optimal functionality and aesthetics. Best of all? No one will be able to tell your wearing braces, as the aligners are crystal clear and can be removed when eating.
What more could you ask for?
Frequently Asked Questions
How do I know if I am a candidate?
During a consultation, we'll take moulds of your mouth and teeth to determine if Invisalign is right for you. Typically, patients with slight overcrowding or misaligned teeth are ideal candidates while those with severe tooth misalignment may require traditional metal braces.
How long will my Invisalign treatment last?
Each patient is unique, which means it's difficult for us to give you a set treatment time until we properly examine you. The average course of care usually lasts anywhere between six months to two years.
Every few weeks, you'll receive a new aligner that is custom fit to your mouth. With each aligner, your teeth will shift closer and closer to the end result of a stunning smile. You'll need to wear your aligners 22 hours out of the day, only removing them to eat.
No! That's one thing that patients love about this treatment. Some may notice a slight pressure during the first couple of days after wearing a new aligner, but this subsides quickly.
Discover More About Invisalign
We'd love to help you discover whether or not you're a candidate for straighter teeth and how we can help. Schedule your consultation today to learn more-we look forward to welcoming you to our practice.

Invisalign Wallsend, Maryland, Cameron Park, Elermore Vale NSW
(02) 4951 6666