Emergency Dental Care at Nova Smiles Dental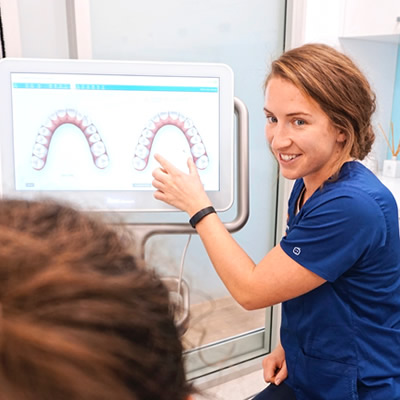 Are you or your child in pain? We aim to provide quick and efficient relief at our family dental practice. Some of the most common dental emergencies that we see include:
Knocked out teeth
Dental abscesses
Broken teeth
Crown or filling falling out
Swelling or pain
Denture repairs
Athletic injuries
See a Dentist Straightaway
The most important thing to remember when experiencing a dental emergency is to see us within the first hour, if possible. Some types of urgent situations can be handled over the phone, with us arranging to see you at your earliest convenience. However, knocked out or fractured teeth should be addressed as quickly as you can get to our office.
Handling a Broken or Knocked Out Tooth
After applying a clean compress to any areas that are bleeding, try to find the missing tooth fragment. Rinse it gently with tap water and submerge it in a container of milk or contact solution. Take care not to scrub any root surfaces clean, as this can delay successful reattachment.
If your tooth is whole, you can attempt to place it back into the socket and hold it in place as you make your way to see our emergency dentist. Otherwise, bring the tooth with you to see if it can be repaired.
Your Comfort is Important
A toothache can be one of the most painful situations that you or your child ever experience. During any type of dental emergency, our first priority is to ensure your comfort. Only after you feel at ease will we discuss the best plan of moving forward and restoring your smile appropriately. Should you require additional treatments, sedation options are available!
In Pain? Call Now
Get fast pain relief from a gentle family dentist that puts you first. Contact us today for immediate assistance.
* Any surgical or invasive procedure carries risks. Before proceeding, you should seek a second opinion from an appropriately qualified health practitioner.

Emergency Dentist Wallsend, Maryland, Cameron Park, Elermore Vale NSW
(02) 4951 6666