Cosmetic Dentistry at Nova Smiles Dental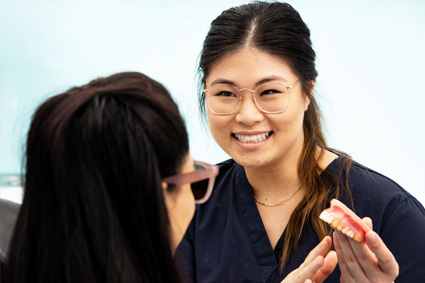 Would you like to smile with greater self-confidence? Perhaps your teeth are stained from years of coffee or tea drinking. Or maybe they're chipped or crooked. With the cosmetic dentistry options at our Wallsend practice, you can achieve a beautiful smile of your dreams.
Get a whiter and straighter smile with veneers. We feature both porcelain and composite chairside veneers. These custom-fitted "shells" can effectively and beautifully conceal an array of tooth imperfections. These include stained, chipped or worn teeth.
Do your teeth appear dingy or tarnished? If yes, you're not alone. While it may be tempting to use over-the-counter whitening strips or pastes, professional teeth whitening gets exceptional results. We offer both in-chair whitening and take-home kits. You can achieve a dazzling, megawatt smile that is sure to turn heads!
These restorations can help to rehabilitate your smile. They're designed from high-quality porcelain materials that blend in seamlessly with adjacent teeth. Dental crowns cover your tooth completely, up to the gumlines. Crowns effectively shield teeth that have been damaged and cannot be filled but are stable enough not to need an extraction.
A bridge is an excellent restorative option that's used when a tooth is missing. The bridge anchors on top of adjacent teeth on either side of the one that has been extracted, suspending a crown over the space left behind.
We also offer custom smile makeovers that combine several cosmetic dentistry treatments to help you gain the smile you've always wanted. The first step of a smile makeover is a consultation with our dentist. You'll discuss the look you'd like to achieve as well as your budget. A smile makeover is a fantastic investment as it can give you a tremendous boost in confidence and improve your quality of life.
Book a Consultation Today
If you're ready to get that picture-perfect smile, contact us today to schedule a consultation!

Cosmetic Dentistry Wallsend, Maryland, Cameron Park NSW | (02) 4951 6666