Inhalation Sedation at Nova Smiles Dental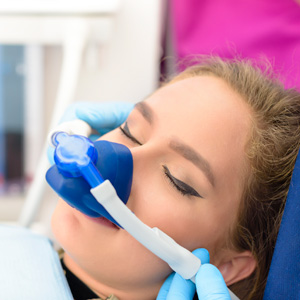 Dr Jenny Hong (Dentist) has a special place in her heart for our patients that feel anxious about going to the dentist. We have a passion for facilitating gentle care to individuals who have experienced uncomfortable dental care in the past or require treatments that they're too afraid of getting.
For your convenience, one of the methods we use is relative analgesia — more commonly known as "happy gas" (nitrous oxide) — to help you relax during your appointment.
How Does Inhalation Sedation Work?
Relative analgesia is a safe and gentle anti-anxiety sedative that eases our patients as they remain fully conscious throughout their procedure. Nitrous gas is mixed with pure oxygen and breathed in through the nose, creating a relaxing effect throughout the entire body. The fast onset allows for an efficient appointment, with the gas quickly wearing off within just a few minutes of being turned off. Adults will even be able to drive themselves home afterwards.
Happy gas can be used for nearly any dental procedure and is safe for all ages.
Advantages of Requesting Happy Gas
Feel more relaxed throughout your dental appointment
No lingering side effects
Appropriate for all ages (including children)
Only takes a few minutes to start working
Completely reversible within a short window of time
Great for Any Appointment
From a routine scale and clean to treating a dental emergency, nitrous oxide is a convenient and safe way to ease your mind when a deeper type of IV or oral sedation isn't necessary. Although you will feel more relaxed, we will still use local anaesthetic as necessary to numb the tooth being treated and prevent unnecessary discomfort.
Are You a Candidate for Inhalation Sedation?
Request an appointment today. Be sure to bring a list of any medications that you're taking and to review underlying health concerns prior to your scheduled procedure.
* Any surgical or invasive procedure carries risks. Before proceeding, you should seek a second opinion from an appropriately qualified health practitioner.

Inhalation Sedation Wallsend, Maryland, Cameron Park, Elermore Vale NSW
(02) 4951 6666